THE GLOBAL CONDITION WORKSHOP
Dates: July 20-21, 2017.
Location: PAF (Performing Arts Forum), ST Erme, France
The global moment is confirmation of the escalating cycle of violence manifested in displacement, dispossession and ultimately death. Daily we witness and are affected by the exodus of refugees from Syria – of a magnitude not seen since World War 2 and the exclusion of those same refugees at the borders of European nations and their internment in places like 'the jungle' in Calais. Daily there are accounts of the black and brown bodies that are being killed by police, militia and governments in the US, Brazil and elsewhere. And always this is played out in the context of continuing global colonial violence against racial and ethnic minorities and Indigenous peoples.
The workshop brought ogether artists, filmmakers, architects, curators, performers, and academics around the theme of "The Global Condition: Dispossession, Displacement, and Death." Participants will meet and discuss pre-circulated writing and project proposals, as well as stage performances and produce artwork and installations, that take the workshop theme as a point of departure.  We don't as yet have funding to offer to cover participant travel.
It provided a context for exchange and dialog beyond the typical institutional and disciplinary boundaries of cultural and academic work that engages the contemporary politics of dispossession, displacement, and ultimately premature death. We intend the workshop "outcomes" to include written essays (single authored and collaborative pieces), documentation of performances, installations, and multimedia artwork, poetry, and transcribed collective conversations and interviews.
During  two days  workshop participants  reflected upon the displacement, dispossession and death that attends the current global moment. Without making a prescriptive demand for the format some of the questions that might be engaged with include: How do we understand the violence that attends these moments? What ethical responses can be made to the violence? Is it possible to dismantle the architecture of oppression in any of its myriad iterations and forms including Empire, capitalism, neo-liberalism and settler colonialism? While the workshop may include presentations of a more traditional, text-based nature it is intended that this space will also engage with responses from a range of other disciplines. Participants are encouraged to think of their involvement in the form of art installations, music, interpretive dance to name but a few possibilities. The ultimate objective is to foster dialogue across disciplines and modes of thinking to engage with the questions that flow from the workshop title.
Schedule
Thursday | 20 July
8.00                Breakfast
9.00                Welcome
9.30-12.00      Presentations (I)
Kodwo Eshun
Léopold Lambert
Neferti Tadiar
12.00-1.30      Lunch 
1.30-4.00      Presentations (II)
Joanne Barker
Robert Nichols
Laura Harris
4.00-4.30     Break
                       4.30-7.00      Presentations (III)
Alyosha Goldstein
Renisa Mawani
            8.30             Dinner (Wu Tsang  & Screening and/or Conversation Fred Moten)
Friday      | 21 July
9.00               Breakfast
9.30-12.00        Presentations (IV)
Simon Leung
Mark Harris
            12.00-1.00       Lunch
1.00-2.30         Screening of Serpent Rain & with Arjuna Neuman and Denise Ferreira da Silva 
2.30-5.00     Presentations (V)
Szu-Han Ho
Rebecca Schreiber
Laylah Ali
8.00      Dinner & Closing discussion
PAF, The Space 
PAF (=PerformingArtsForum) is a place for the professional and not-yet professional practitioners and activists in the field of performing arts, visual art, literature, music, new media and internet, theory and cultural production, and scientists who seek to research and determine their own conditions of work. PAF is based in St Erme, 150km north-east of Paris, France, between Reims and Laon
A few  Moments
The conversations started at PAF's media room, the event main site, continued in the courtyard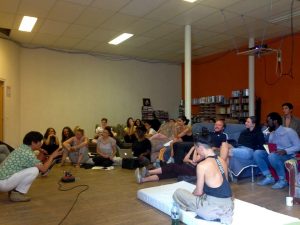 the kitchen …
everywhere
Workshop Participants: Presenters and Attendees
Laylah Ali
Phanuel Antwi
Joanne Barker
Kodwo Eshun
Denise Ferreira da Silva
Alyosha Goldstein
Laura Harris
Mark Harris
Szu-Han Ho
Léopold Lambert
Simon Leung
Renisa Mawani
Robert Nichols
Arjuna Neuman
Rebecca Schreiber
Neferti X. M. Tadiar
Wu Tsang
Sebastiaan Boersma
Filipa César
Ana Dupas
Diksha Gupta
Ayesha Hameed
Louis Henderson
Annick Kleinzen
Michelle Mattiuzzi
Jota Mombaca
Amilcar Packer
Denise Ryner
Rachel O-Reilly
Vivian Ziherl
Clara López Menéndez
Corazon de Sol
Neah Spellsish
Susanne Winterling